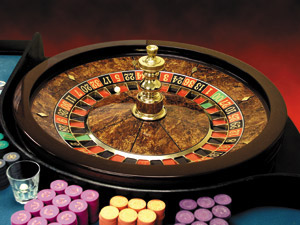 The first roulette wheel was created by Blaise Pascal inspired by the idea of inventing of a perpetual motion machine. Since that time it has been modified until the wheel appeared that we know nowadays.
The game consists of a Roulette wheel, a ball and a numbered table covering.
Roulette Wheel Construction
Roulette wheel is a rotating wheel with a special design that is placed on the roulette table. The numbers up to 36 are placed among red and black, big and small, even and odd.
The American Roulette wheel has 38 numbers and two zero pockets: "0" and "00". All slots are red and black and zero slots are green. Also all numbers are divided into the odd and even numbers. Zero slots give the house of 6% advantage. It pays out for about 37 to 1.
The European Roulette wheel has only one zero slot "0". It is more profitable for the player as it has lower house edge. So, playing at the European Roulette table one has more chances of winning.
The only and the main disadvantage of playing at the European Wheel is that the majority of US based brick and mortal casinos prefer not have European Wheel table because of the odds and it may be rather difficult for Americans to find European roulette. In this case US Roulette players can try to play roulette online.
The Bowl
The bowl includes a spindle, the lower ball track with the ball deflectors and the ball track. The wheel head is placed on the ball and fits with the lower and upper ball tracks.
The Roulette Ball
The roulette ball is 12/16-inch diameter and is made from nylon, phenolic or acetal but firstly they were produced of ivory bone. The material influence on the speed of the ball's rolling.